URBAN REGENERATION: KALINGA MAWATHA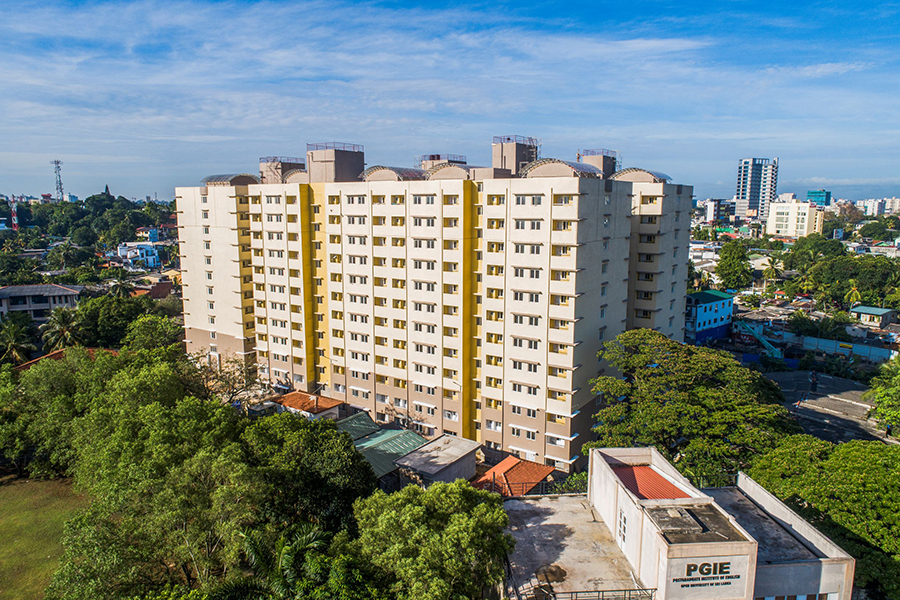 Maga Engineering has completed construction of a new 528-unit housing complex consisting of three 11-storey blocks situated off Kalinga Mawatha in Polhengoda, Colombo 5.
The housing complex, named 'Colomthota Sarasavi Uyana' was opened on 15 December under the patronage of Prime Minister Mahinda Rajapaksa, on the invitation of State Minister of Urban Development Dr. Nalaka Godahewa.
Education Minister Dinesh Gunawardena, Transport Minister Pavithra Wanniarachchi, State ministers, secretary to the Ministry of Urban Development, the UDA Chairman and others attended the event.
Part of the Urban Development Authority (UDA) Urban Regeneration Project Phase II, the 'Colomthota Sarasavi Uyana' housing complex is one of a series of projects focused on improving the quality of life for under-privileged communities living in urban areas in Colombo City.
The UDA's Urban Regeneration Project aims to construct 70,000 housing units for such communities living in underserved settlements and slums without access to basic infrastructure facilities such as clean water, electricity and sanitation.
Maga Engineering undertook construction and financing work of the complex in 2018 and successfully completed the project on schedule despite the COVID-19 pandemic, carrying out all construction activities as per CIDA health and safety guidelines for construction sites.
Situated on a one-and-a-half-acre property, the 11-storey housing complex was designed by the State Engineering Corporation (SEC), and features 528 housing units, a community hall, recreation and play area, Grama Niladhari (GN) post, police post, health centre, and management office.
Each housing unit at the complex consists of two bedrooms, a living room, kitchen, toilet, and balcony. Furthermore, one block from the complex was fitted with all necessary components and accessibility features in order to accommodate hostel facilities for the University of Colombo.
The complex will now provide access to safe and secure housing within Colombo City for low-income communities from the Kalinga Mawatha area and unauthorised settlers displaced by developments to the Kelani-Valley railway line. As such, hundreds of families will now have access to formal land tenure, a decent home, and essential infrastructure and amenities such as safe public spaces, clean water, electricity, and sanitation.
Maga Engineering is a long-standing partner in Sri Lanka Government's urban regeneration efforts to improve the lives of low-income communities living in urban areas. MAGA has successfully constructed four large-scale developmental housing projects providing housing to over 2,000 families, and is currently involved in further two projects that will provide affordable housing to more than 1,000 more low-income and middle-income families in Colombo.
Link: https://www.ft.lk/business/MAGA-completes-528-unit-urban-regeneration-housing-project-at-Kalinga-Mawatha/34-728129